Event Listing Brought to you by:

Events List
Events List Navigation
June 2017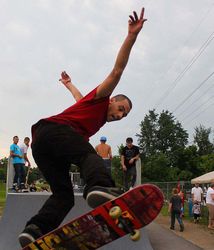 The Sixth Annual SkateparkFest will be at the Skatepark, Saturday, June 17, beginning at 1:00pm. The Park consists of 4' quarter and half pipes with bank ramps; 3' spine; pyramid corner; flat wedge; stairs; grindbox; rail; bench. The all steel elements are available for both skateboards and bikes.
Find out more »
July 2017
+ Export Events