Conrad—Black Dirt Days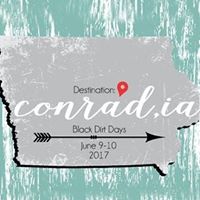 2017  Conrad Black Dirt Days
June 9 -10, 2017
FRIDAY JUNE 9TH, 2017
5:00 pm – Opening Comments, Main Stage – Ann Rogers
4:30 – 9 pm – Fabulous Faces by Becky's Face Painting
5:00 – 7:00 pm Choo-Choo Train for Kiddies
5:00 – 8:00 pm Pony-Go-Round Pony Rides
5:00 – 9:00 pm Inflatables & Games – Midway
5:30-6:30 pm – Sheltered Reality Drum Session
5:45 pm Registration for Kiddie Tractor Pull
(North end of Main Street)
6:30 pm – Kiddy Tractor Pull
(North end of Main Street)
6:35 pm – Announcement of Little Mr. & Miss Black Dirt Days
8:00 pm – 12:00 am – Triple Threat Band
SATURDAY JUNE 10TH, 2017
Reunion Park – Family Aquatic Center
8:00 – 10:00 am – Midwest One Bank Community Breakfast
8:00 am Post-Race Recover Station –
Sponsored by Sports Plus
_________________________________________
GRAND PARADE: 11:30 AM THEME – Destination Conrad
_________________________________________
9:00 – 7:00 pm – Travis Kimball Woodcarvings – Gier Park
11:00 am – 3:00 pm – Open House @ Conrad Heritage Hall
11:30 am – Grand Parade – Start HS Parking Lot
12:00 – 12:30 pm – Spoon Guy – Main Stage
12:00 – 2:00 pm – Chamber Main Street Car Show
12:00 – 5:00 pm – Pony – Go – Round Pony Rides
12:00 – 5:00 pm – Boutique Pop-up Shop
12:00 – 9:00 pm – Inflatables & Games
12:30 – 2:00 pm – Front Porch Pickers – Main Stage
2:00 – 2:45 pm – Spoon Guy – Main Stage
2:45 – 4:30 pm – Music – Main Stage
3:00 – 8:00 pm – Mustaches & Smiles Photo Booth
3:00 – 8:00 pm – Truck Pull
4:30 pm – 5:00 pm – Spoon Guy – Main Stage
5:00 pm – 6:30 pm – Wood Carving Auction
5:30 – 6:45 pm – Kid Karaoke – Main Stage
12:00 am – 2:00 am – Karaoke at RJ's
_________________________________________
Be sure to visit the vendor fair! 
Jessica Marken –
BeeCa's Boutique
April Stewart
– Jams and Jellies
Cheryl's Place
– Barbie Furniture, Bags – Bags, Crochet Towels, Pallet Items, Sports Items, Baby Blankets & More
Ashley Smith
– Clever Container
Food Vendors
Food Vendors — Downtown Conrad
Town House

–
Tenderloins, hotdogs, coleslaw, pea salad, lemonade, ice tea & canned soda
Bubba's Burnt Ends

 – 
BBQ Pork
Maria's Tacos

 –
Tacos, burritos, tortillas and fresh fruit
Vini Soukhavong

 – 
Egg rolls, crab rangoons, fried rice, snow cones and soda
Dave Hazen

 – 
Corn dogs, chicken strips, funnel cakes & lemonade
Sugar Box Treats

– 
Mini donuts, funnel cakes, hot dogs, nachos, bottled soda and water
Hometown Foods

 – 
Hamburgers and Hot Dogs
Dennis Williams –

 – 
Lemonade & Slushies
Mac-U-Bana

 – 
Tempura Mac n Cheese, cubano sandwiches, belgian fries, empanadas, cajun popcorn chicken
Carl Smith

 –
Philly Cheesesteaks & Kettle Corn
Blue Collar Community Church Youth Group

 – 
Homemade pie, and drinks
The Pie Lady

 – 
Pies, ice cream, root beer floats, ice cream sandwiches
Conrad American Legion

– 
Pulled Pork, beef burgers, baked beans, potato salad, hot dogs, pie & drinks.  Serving Sat. Only after the parade from 12 noon –
Boyscouts 

 – 
Cobbler – Located at the Legion
Masons Masonic Lodge

 – 
Pork Loin sandwiches, pork patties, hot dogs and chocolate malts
Events are subject to change without notice.
Check www.blackdirtdays.com and our Facebook page for the latest information.